Support Playbook April 2019 Edition
If you have not seen our past Support Playbook editions, we highly recommend taking a few minutes at the end of each month to browse these emails. They contain a recap of the month's product enhancements, administrator tips & tricks, frequently asked support topics, and more.
---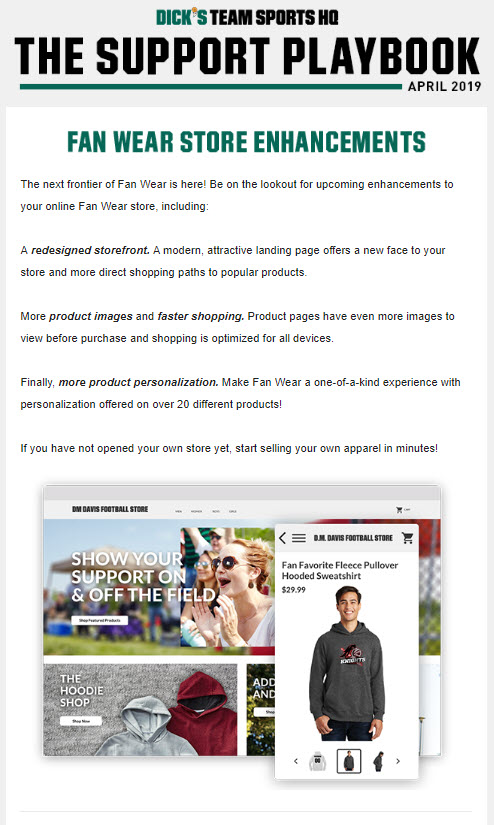 The next evolution of Fan Wear has arrived, as our online apparel stores are taking a positive step forward in the coming weeks. Partners who sell Fan Wear online with Team Sports HQ can expect a totally redesigned storefront experience that adds more shopping paths, product displays, and advertisements to their store. This will make the entire shopping experience faster, easier, and more enjoyable for families. In addition to cosmetic improvements, we have added Personalization to more products than ever before! Be sure to check out our Fan Wear product if you have not done so already.
The DICK'S Sporting Goods Hero of the Year contest will conclude taking nominations at the end of April, and the volume of heartwarming stories about dedicated volunteers and coaches has been unbelievable! Stay tuned in May as we announce Finalists who deserve recognition, and the Winner who will receive our grand prize of a $500 DICK'S Sporting Goods gift card!
Most Spring seasons are concluding over the coming weeks and to help board members stay organized, we have created an End of Season Checklist. Don't let pending payments, reporting final game scores, and end-of-season communication slip through the cracks! Download our checklist to stay organized with each phase of your organization.
Does your organization need a new or updated logo? Just because you are not a professional designer does not mean you cannot create a great looking brand for your league! Up Your Logo Game and reap the benefits of a strong brand. We recently wrote about some accessible, now cost options when designing or hiring designers for these projects, as well as highlighted important considerations to keep in mind when creating the best logo possible.