Support Playbook March 2019 Edition
If you have not seen our past Support Playbook editions, we highly recommend taking a few minutes at the end of each month to browse these emails. They contain a recap of the month's product enhancements, administrator tips & tricks, frequently asked support topics, and more.
---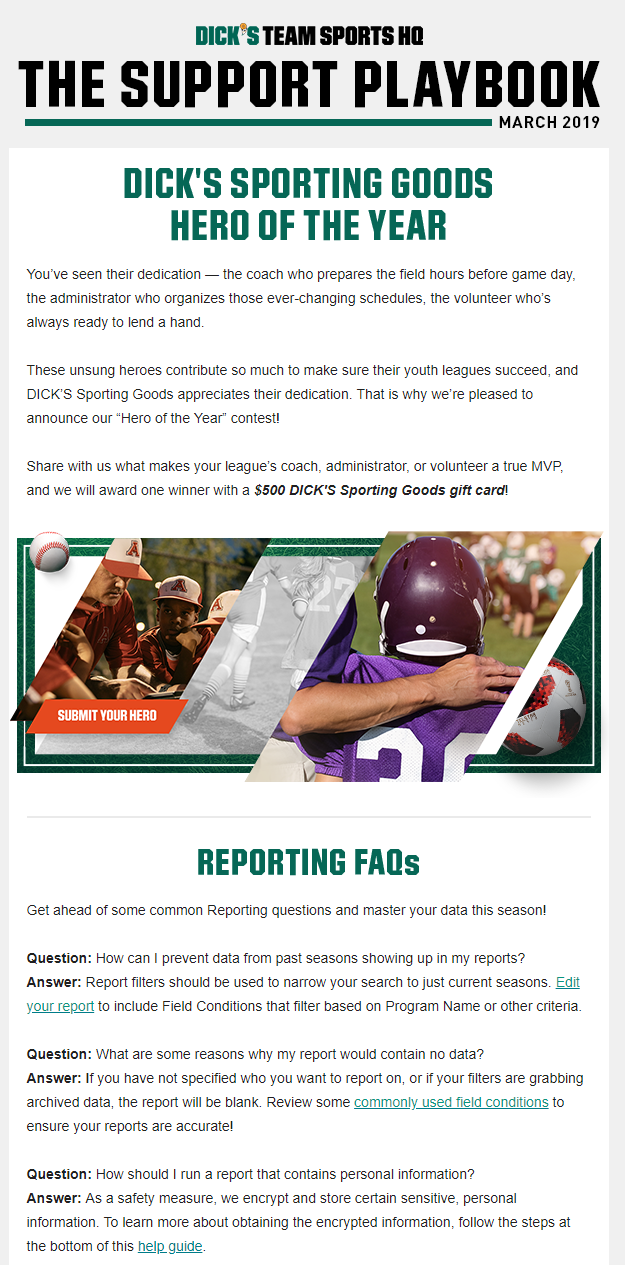 Do you know someone who has gone above and beyond in your sports league? To the coaches who spend hours mentoring and teaching players, administrators who sacrifice evenings to coordinate the season, and volunteers who spend their free time lending a hand to make sure their youth leagues succeed, DICK'S Sporting Goods wants to recognize these unsung heroes, selecting one to be the DICK'S Sporting Goods Hero of the Year. Through April 30th, nominate someone from your league who has gone the extra mile. One winner will be selected in recognition of their endless passion and presented with the grand prize of a $500 DICK'S Sporting Goods gift card.
We want to continue helping our partners get ahead of common questions that come up most often and are easy to overcome. Data management can be daunting so we created our Reporting FAQs list to help you get ahead of them.
Our newest website design, Artemis, launched in April and we are excited to offer it to all of our partners at no cost! This design features your logo in front of the haze of stadium lights, a large rotator showcasing top news articles, and over 40 unique color combinations to choose from.
If your coaches and teams are looking for an easy way to manage their teams this season, look no further than the DICK'S Team Manager mobile app! Rosters, scheduling, messaging and photo sharing all in one place. Best of all, its 100% free!
Finally, Online Team Building is critical to keeping your season organized and your operations centralized. After registering players and taking payments online, don't find yourself splitting off to different services to roster and run your season. DICK'S Team Sports HQ is built to handle not just your sign-ups, but your team management, scheduling, communication, and more. Don't lose the value of a one-stop-shop service by managing your rosters offline!