Communication with your parents and players is crucial. Whether you need to let them know about the spaghetti dinner next week, newly released rosters, or a rogue gopher at the field, we've got you covered! For these mission-critical messages, we always recommend using email as a way to get the word out.
Since Blue Sombrero was founded, we have sent hundreds of millions of emails on behalf of our customers and learned quite a bit along the way! Want to hear some of our best practices? Here we go!
A consistent challenge for anyone sending multiple emails is deliverability. David Friedman from SendGrid explains, "To increase email open rates, email of course first has to reach the inbox. This comes from knowing how to send the right message, to the right person, at the right time, with the right frequency." This all starts with parents being properly set up to receive your emails.
 Reminders to share with coaches, parents, and players:
During online registration: Double-check your email address is correct in Account Info.
When you receive an organization's first email: Add the incoming address to your contacts. This should cut down on future emails sneaking into a spam folder.
You've seen our email tools but here are our most valuable tips:
Want to send your message to All Users?
Some users may participate in more than one of your programs. Prevent them from receiving duplicate emails by selecting All Users in your bulk email tool. Once you have chosen All Users, you do not need to add any other groups, since every group will be a part of All Users. Additional groups will only repeat those users' email addresses on the final send list.
Are you adding a large image or attachment?
Large attachments impact load time on different devices. With more and more parents checking emails on their mobile devices you want to keep your message mobile-friendly. An image should have a maximum width of 320px to fit most phone screens in portrait mode.
Customizing the color and format of your emails?
You guys and gals are so creative! Bear in mind that special formatting and colors may not translate to all platforms. Your email could look different on a mobile phone versus a desktop computer. The first rule of email is that it must be easy for your customer to read. Try to avoid excessive formatting, multiple colors, tables, or anything else that will slow the load time.
F

or a big, club-wide email, it's a good idea to send a test email to yourself or a couple of friends to ensure the formatting is displaying correctly.




If you create a masterpiece you'll want to use again, save it as a New Template! Or feel free to

edit one of our existing templates

.
Using a URL shortener?
They're helpful, we know! Unfortunately spammers have abused URL shorteners which has led to some legitimate sites being temporarily blacklisted by industry watchdogs like Spamhaus. URL Shorteners may cause an email to be pushed into your recipient's spam folder. Instead turn bits of your text into a link! If we can do it, you can do it! Learn how!
What's in a name?
The title of your email, aka the subject line, makes a difference. Retention Science found a 2.6% increase in open rates of emails with a recipient's name in the subject line. Sendgrid's VP of Delivery, Paul Kincaid Smith reiterates this fact as part of his predictions for the future of email: "Spam filtering is becoming more personalized, and so effective email campaigns must become more personalized too. Senders of commercial email must deliver more relevance and value if they expect their email to be seen and opened. Quality trumps quantity."
With bulk email, adding other personalized information like game location will up the chance of a parent opening the message.
Before you click that big ol' SEND button:
Have you sent someone 52 emails?
Are they still not responding? Unfortunately, the 53rd email might not do the trick. You have the ability to check email statistics. Triple check the address in question; is it invalid or has it bounced? If everything looks good, a phone call or face-to-face conversation may be your best bet.

Are you sending emails during lunch?
Unfortunately there isn't a magic time to send your emails to guarantee it ends up being seen by all your players and parents. But plenty of companies have conducted studies to try to find one. MailChimp, an email marketing service provider, posted these graphs showing that 10 am is the optimal time to send messages: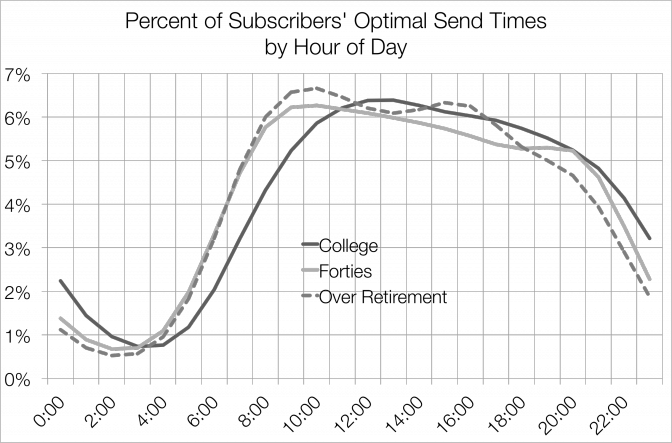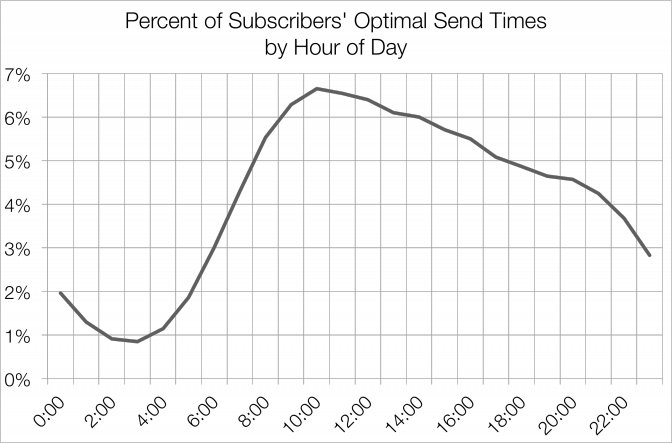 Just remember every group is different. This data was collected from MailChimp's 7 million users. So, test the waters. Ask a few parents about their email preferences. Most of your recipients are adults who might be bogged down with work emails throughout the day.
★ As an admin, you're probably sending out standard messages like new season information or practice reminders. Here are other ways you can use email to grow your programs:
Cross-market another, upcoming program to current players

"Check-in" email to stay top of mind during the off-season

Once the season ends, request feedback about the player's experience with the club and how it could improve

Reconnect with players who have previously participated in your programs

If you have any questions about email features, our Support Ninjas know the Blue Sombrero system like the back of their hand.
Reach them by email at [email protected] or dial 866-258-3303. The Ninjas are in the office from 8AM – 6PM EST, Monday – Friday.
Any newbies in the building? This video will get you started on your homepage. Let's learn to walk before we run!