Whether you are a new organization to DICK'S Team Sports HQ or simply a new volunteer, our team is committed to your success!
Our solution was originally created because it was too difficult and time-consuming to effectively run a sports league by hand. DICK'S Team Sports HQ has continued to evolve into the premier sports management solution supporting thousands of organizations and millions of families across all 50 states.
If you're a technology newbie or a veteran IT consultant, we've got you covered. Our new activation program is self-paced, so you can work on your own schedule.
Take a look at some of the exciting and helpful new ways we're supporting customers.
Welcome Videos
Even before you log in for the first time, you can watch short demos of our core features. They are quick and to the point, and get you everything you need right from the start.
In-app Messages
Over the years, we've learned what it takes to get your organization up and running in our solution. We're now able to deliver all the best information, tips and tricks right at your fingertips as soon as you start the process.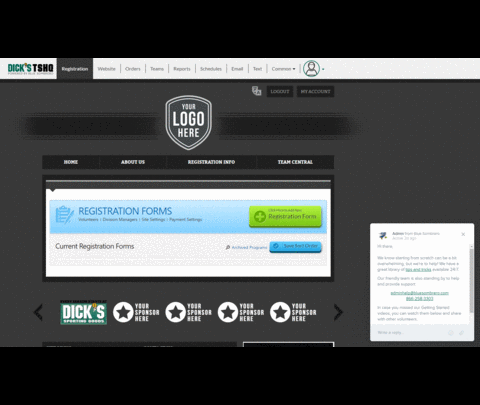 We can now deliver helpful content from within our solution right when you need it the most:
Important Announcements

Coming back into the solution to prepare for the upcoming season and curious what you missed? We've got you covered! All the important new features, product enhancements and tips will be catalogued for you. Want to make sure you're utilizing the amazing new feature we just launched? We'll let you know about it and show you how to use it.

Timely, action-based Information

Let's say you're creating a Registration Form for the first time. Our solution understands that and will automatically send you a tutorial. How cool is that? As you continue to build your website, we'll continue to provide the tips and tutorials needed to make it a great success.
Webinar Training – Basic Setup
A new and exciting part of our commitment to supporting busy youth sports administrators are live training webinars. Our expert team of Account Managers, who specialize in getting organizations like yours set up for the upcoming season, offer weekly sessions to answer questions, provide live demonstrations and help you in any way that is needed.
We have a number of time options available each week so you can find something that is convenient. If you can't make it, no worries, you can email [email protected] to receive a recorded copy of the training session.

Governing Body Specific Planning
More and more respected national youth organizations like AYSO, SAY Soccer, PONY Baseball and Softball, Little League Baseball and Softball, Pop Warner Little Scholars, and National PAL have joined the DICK'S Team Sports HQ family.
We provide specific information for their members to make it a smooth transition across the board.
If you're a local club or league of a national sports organization, check out this section of our support site for specialized instructions and answers to common questions you may have.
Expanded Support, Same Real Humans
In addition to the expanded resources above, we have a growing, dedicated support team that you can always count on.
Extended Phone Support Hours
Weekend Ticket Support
A Growing Support Team
The level of commitment to helping solve YOUR organization's problems is what makes us unique and creates loyal customers – many of whom have been with us for numerous years.
"The customer service staff for DICK'S Team Sports HQ is fantastic! The are very informed of their product, helpful, kind and if they don't know the answer or they will find out by going the extra mile for you!"
Jacqueline Taylor, Arizona Soccer Club
We're ready to help your organization too!
If you haven't checked out our new support site, head on over now! We've redesigned the site and are constantly adding new tutorials, tips and tricks.