The annual National Soccer Coaches Association of America Convention was held, January 11-15, 2017 in sunny Los Angeles, California. The Convention was a tremendous success, having the second largest attendance in the history of the event.
A soccer lover's paradise, this year's convention was no different. Appearances by new Men's National Team Coach Bruce Arena, an exciting MLS SuperDraft, hundreds of exhibitors from around the world, and 250+ education sessions made this year another success for attendees.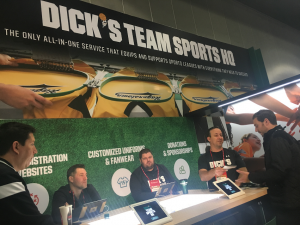 The DICK'S Team Sports HQ team was there to take part in the world's largest annual gathering of soccer coaches and administrators. The team had a great time visiting with current partners and meeting potential new ones.
The Convention was a great chance for state soccer organizations to hear more about the exciting plans underway for governing bodies, made possible by the addition of Affinity Sports to the DICK'S Team Sports HQ family in 2016. Together, the platform moves closer to a truly streamlined end-to-end registration and organizational solution for the soccer community.
DICK'S Team Sports HQ will be back on the road soon, appearing at more conventions across the country. Keep an eye out and we may be coming to a community near you!