Support Playbook May 2019 Edition
If you have not seen our past Support Playbook editions, we highly recommend taking a few minutes at the end of each month to browse these emails. They contain a recap of the month's product enhancements, administrator tips & tricks, frequently asked support topics, and more.
---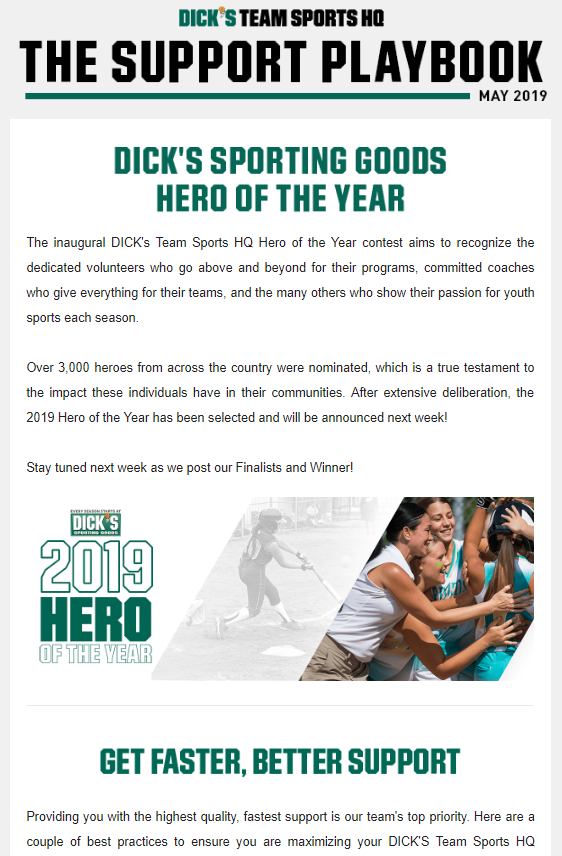 The 2019 DICK'S Sporting Goods Hero of the Year contest has concluded! Over 3,000 heroes from across the country were nominated, which is a true testament to the impact these individuals have in their communities. We are extremely excited to spotlight the Finalists and their stories, as well as our winner, Brian Tackett from Flora, IL!
Our Support Team is committed to providing each partner with the best experience when questions are sent in to our team. This means giving everyone Better, Faster Support. To help with this, there are a few, simple best practices that you can do when sending in a support ticket.
Every volunteer-run organization deals with board turnover on an annual basis. This transition of leadership often leaves projects, tasks, and responsibilities in a state of uncertainty. Fortunately, DICK'S Team Sports HQ is here to help you Handle Board Turnover. We offer numerous resources to help manage this transition and train new administrators as quickly as possible.
Did you know that you can fully transform your website design in seconds, at no cost? If you feel like an update is needed with your website layout, learn about how easy it is to Change Your Website Design.
Finally, managing and monitoring your organization's finances may not be anyone's forte, yet is a crucial part of running a youth sports league.