Support Playbook February 2019 Edition
If you have not seen our past Support Playbook editions, we highly recommend taking a few minutes at the end of each month to browse these emails. They contain a recap of the month's product enhancements, administrator tips & tricks, frequently asked support topics, and more.
---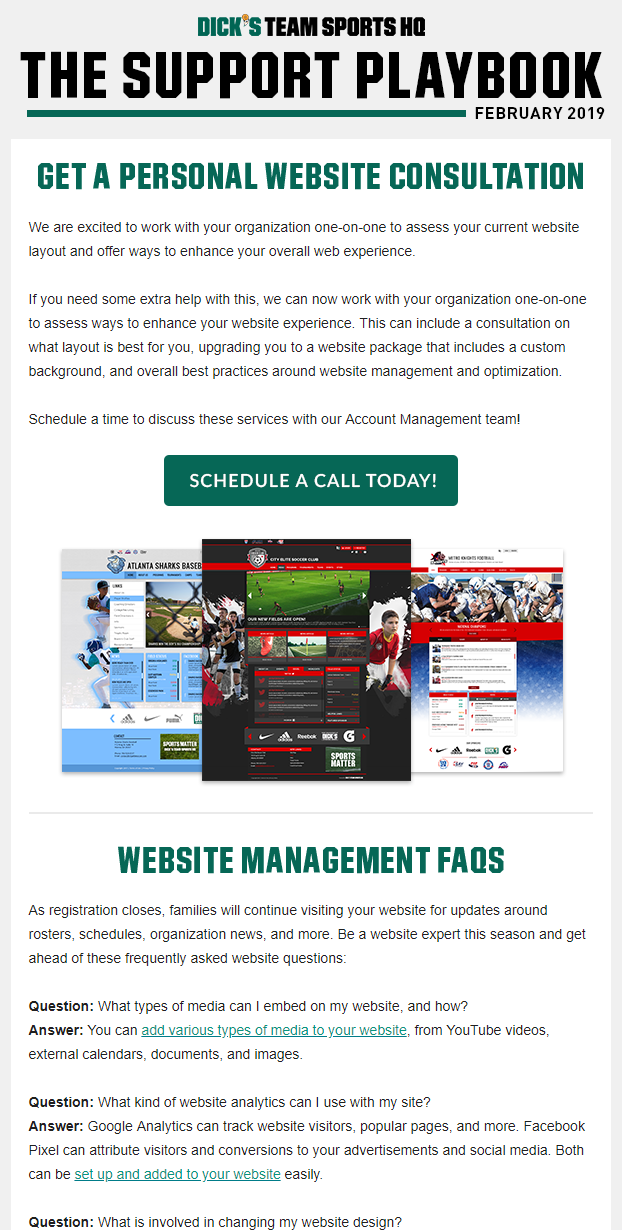 Your website sets the stage for how members and visitors perceive you. It is the vital first impression that can attract or deter families from participating in your league. We want to help make this impression as positive as possible. If you feel like your website could use some help, need some guidance on how to make improvements, or learn some best practices, sign up to get a Personal Website Consultation! Our Account Managers are happy to walk you through what designs may best fit your goals, what content can make a difference for you, and even review options for an upgraded website design package.
We want to continue helping our partners get ahead of common questions that come up most often and are easy to overcome. On the topic of websites, we reviewed some support topics that arise most often and created our Website Management FAQs list to help you get ahead of them.
Managing your league's finances is not the most fun or glamorous part of running a sports league, but for non-profit organizations it is vital to stay on top of. Post registration season is the best time to review Best Practices for Refunding, as these situations arise every season. Also, Monitoring Open Orders to ensure money does not fall through the cracks should not be overlooked.
Finally, communication is key for every organization. Not only in how and when you communicate, but the tools you use to effectively reach your members and track your engagement. Many email tools are built to provide capabilities to track email stats, build professional templates, and segment your send lists. But did you know that you do not need to use a third party service for all of this? Learn about Your Email Tool and why everything you need to communicate effectively is already at your fingertips.