We've got some Valentine's Day love to share with you, especially with today's updates.
We've redesigned our Roster Notification screens and enhanced Email All Roster functionality in our Team Wizard!
Roster Notifications – You can now add a customized note to the roster email! You can also pick and choose which fields you want participants and volunteers to receive within the roster. Want to send emergency contact information or player allergies to volunteers? It's up to you – the sky's the limit! (View Roster Notifications: Send Tryout Acceptance Email Support Steps and Send Tryout Rejection Email Support Steps)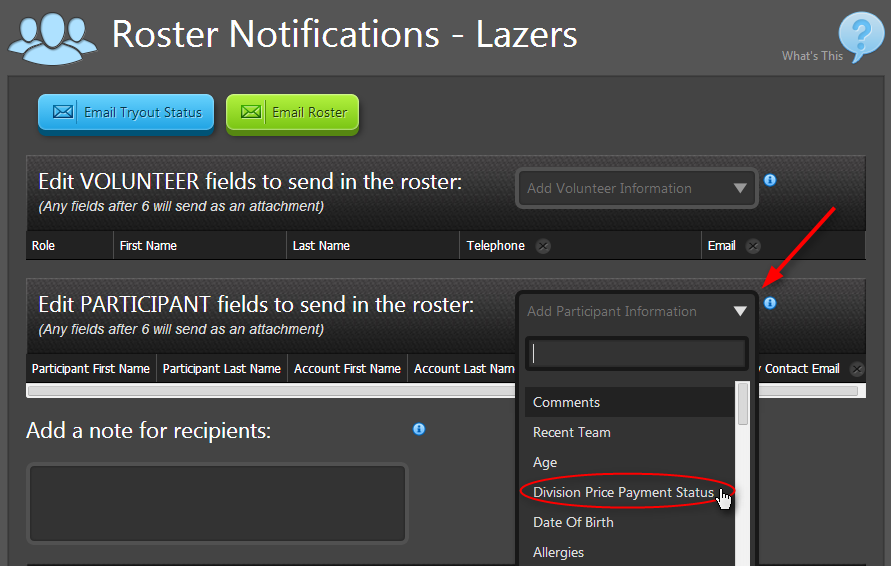 Email All Rosters – You can now select which groups you would like to email all rosters to rather than just emailing the roster to all allocated volunteers and participants! You can also add a customized note to all rosters and select which fields (such as Recent Team, Age, Date of Birth, etc.) to send in this email. (View Email All Rosters Support Steps)
Roster Notification and Email All Roster Helpful Tips & Tricks:
Before emailing the team roster, sort and filter participants who have accepted or rejected their offer and those who are still pending an acceptance. This can be done directly on the Roster Notifications screen or by viewing the Tryout Status Report.
Please feel free to add as many fields to the team roster as you want, but know that any fields you add after the 6th field will send as an attachment with the roster.
Email all rosters to Coaches and Team Managers before you email all allocated participants – just to give them a head's up as to who is on their team this season!
This is also a good opportunity to send volunteer groups any important player information you feel that they will need before or during the season, such as Emergency Contact Info, Allergies, Division Price Payment Status, etc.
You can always view the team roster in the Team Directory Detail Report. Customize (and now save!) this report so you can return to it whenever you would like!
We know change can be scary, so in order to guide you through this new look and feel, we've made sure to update all the documentation on our Support Site.
As always, if you need a hand to hold, please feel free to reach out to one of our friendly Support Ninjas: [email protected]