Support Playbook January 2019 Edition
If you have not seen our past Support Playbook editions, we highly recommend taking a few minutes at the end of each month to browse these emails. They contain a recap of the month's product enhancements, administrator tips & tricks, frequently asked support topics, and more.
---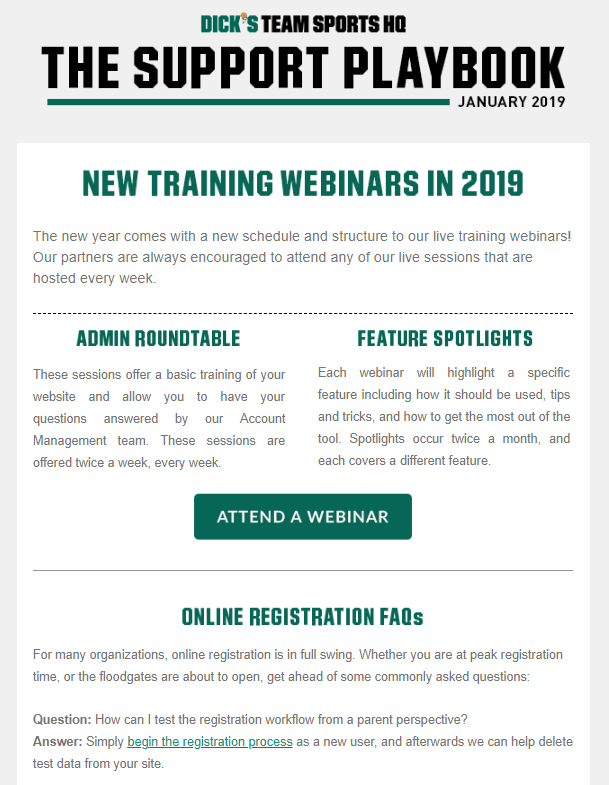 One of the most valuable resources for partners in 2018 was our Live Webinar Series. We are excited to expand this series in the new year, focusing on both general help and training for our administrators as well as highlight specific features and best practices. Every session is open to any interested parties, and occur multiple times a month!
With online registration in full swing for many organizations, our Support Team has seen an increase in questions around registration features and how to handle certain situations. Highlighting some of the most common registration questions among these can save you some time and better equip you to handle any situation that may arise.
On the topic of registration, Wait Lists are an important tool when roster spots are limited but you want to continue collecting information from interested players. Keeping a pulse on your enrollment numbers is also important to ensure sustained growth for your league.
Finally, we always stress the importance of a good website in creating a positive first impression, but it can also be used to sell your mission statement and create a connection with your members. Showcase why you differ from other sports leagues and publicize your brand.