If you're an athletic administrator that offers family discounts for your sports programs, our new family discount feature will make you want more children yourself! Blue Sombrero's new feature gives you the ability to set the family discount amount per child.
So what does this all mean? Well, it means that it's super easy to offer flexible discount plans for families that have more than one child enrolled in your programs. Let's say you offer a $15 program discount on the second child who signs up and then $25 more for the third child and $10 for any others. No problem! You can choose which children in the family receive a discount and at what amount. You can also set a maximum # of participants per family for the discounts to apply towards.

To utilize this feature, just make your way over to the family discount section on Step 3 of the Registration wizard. Here, you'll be able to customize family discount amounts for each participant in the family – after the 1st participant, of course. Once your families make it through your registration forms, they will see the discounts applied at the point of checkout.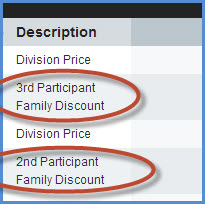 The new family discount option also provides a workaround for adding a cap on total family spending per program. This is helpful for administrators who would like to set a specific dollar amount that a family can spend per program. For example, maybe you only want to charge a family of 5 a total amount of $300 for registering for a particular program. For easy calculating, let's say each division in the program costs $100. You'll just need to set up the family discount like the screenshot below:
In the screenshot above, we've just added the amount of the division price as the discount for the number of participants in the family that we do not want to charge for the program. The system will subtract the amount of their division at check-out, essentially making their payment for the program zero dollars.
If you missed our update on how to adjust payment plans, check it out! Also, read our tutorial on staggering tryout program questions!
Have any questions? If so, our mighty Support Ninjas are ready to help!
Support Email: [email protected]
Support Phone: 866-258-3303