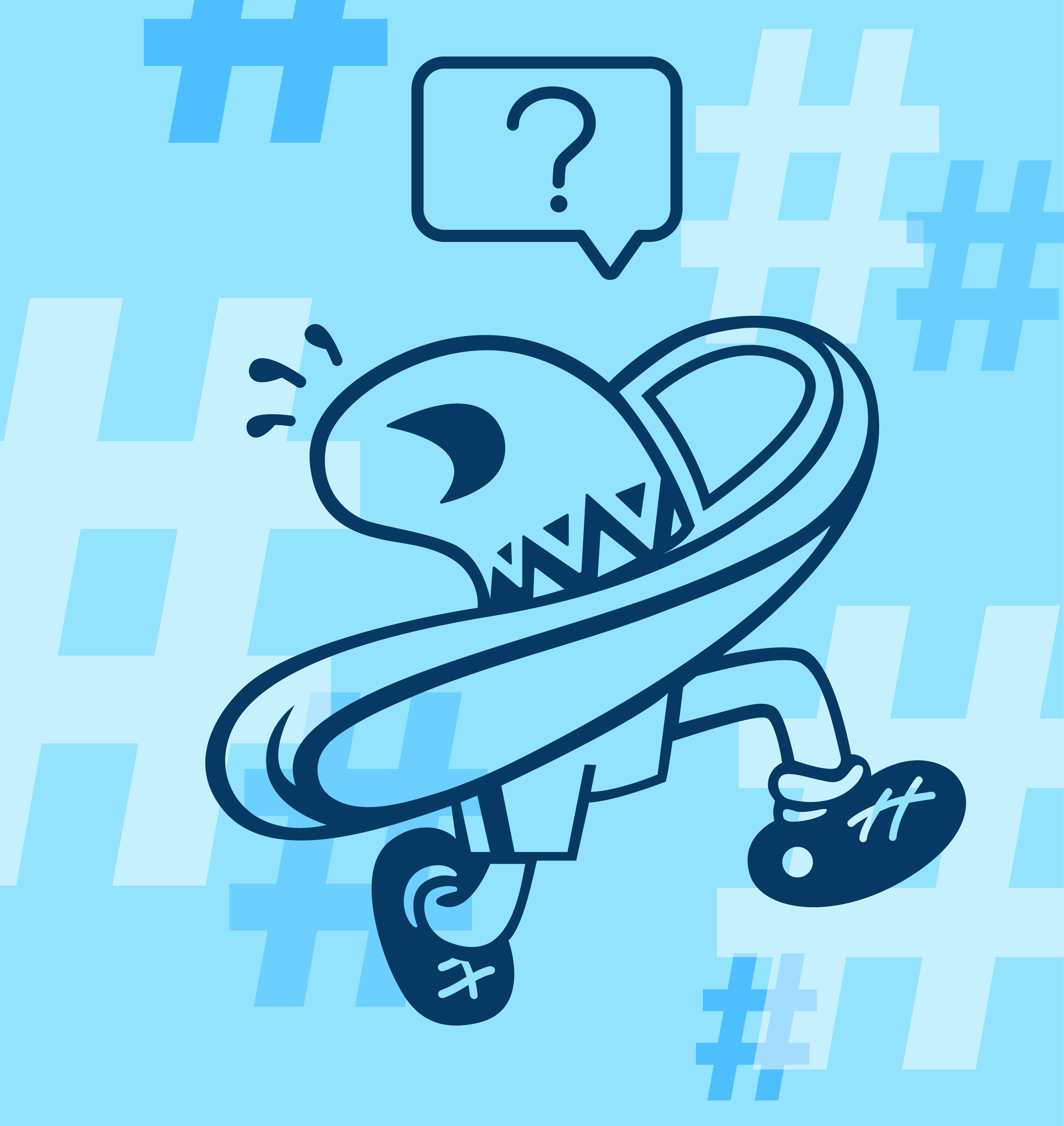 What is a #? Pound. Number Sign. Sharp Symbol. Octothorpe. Hashtag!
Hashtags are taking over, from Twitter to Instagram to late night TV. Why? Good question.
It's about time we all got a crash course on hashtags. They've recently become popular but were first used in the 90's. They've been around longer than the kids playing on your teams! A hashtag on Twitter, Instagram, Pinterest, and Google+ will turn the word(s) that follow into a searchable link. This is now true on Facebook as well, but is far less popular. Once these words have been turned into links, anyone can click on them to access other posts with that same hashtag.
Say you want to tweet a motivational quote on Monday. A simple search will show that "mondaymotivation" is a very trendy hashtag. So you decide to add #mondaymotivation to the end of your post. As we mentioned, on most Social Networks you've now turned the phrase into a link by adding the # symbol at the beginning. If you click that link you will see numerous posts with some motivation for your manic Monday. Take a look at this live search of #mondaymotivation on Twitter.
Other popular hashtags:
#sports, #football, #baseball, #soccer . . .
#sportsnews
#coaching
#family
#tbt = Throwback Thursday
Hashtags in your Social Posts
Unlike your Social Stream Hashtag, you want hashtags in your posts to be common. To reach people outside your organization you'll need to use a hashtag that is known and being used in conversations.
Take out all spaces and punctuation. You want your hashtag to be #AllOneWord
Find a hashtag that's already being used in similar online conversations

Check out the trends shown on your Twitter page
Look through recent posts and accounts that match your topic to see what keywords they are using

Hashtagify.me is a great resource to find keywords

Ex. Sports organizations may have a tagline they've turned into a hashtag. Such as the Atlanta Hawks using #TrueToAtlanta. This hashtag appears in their @ATLHawks Twitter profile, marketing campaigns, and tweets. It quickly grew to be included in tweets from fans across the country.
Ex. During the recent Women's World Cup there were several trending hashtags: #WWC #WWC2015 #FIFAWWC #USWNT #shebelieves. Using one of those would have brought more attention to your post since people were interested in that topic. Anyone, around the world, who wanted to see posts about the #WWC2015 could click on that hashtag and find your post!
Try not to go #hashtag #cray

Tweets with 1-2 hashtags have 21% higher engagement than those without hashtags, while a post with 3 or more hashtags drops engagement an average of 17% (stat found by Quick Sprout)
Using Hashtags in your Team Social Stream
Your Social Stream lives within your Blue Sombrero Team Page. If you turn this feature on, a live feed will be created. This feed with show all posts with the hashtag of choice so you want that hashtag to be unique. It's better to use #SombreroUnitedATL than #sports. That way your Team Page will be showing posts from your organization and not from EVERYONE who posted about sports.
Take out all spaces and punctuation. You want your hashtag to be #AllOneWord
Check Social Media platforms to see if your hashtag is already being used
Make your hashtag specific

You may want to include your city, state, sport etc.
Ex. Sombrero United could be #SombreroUnitedATL or #SombreroUnitedSoccerATL

Include that hashtag in your promotional materials. Spread the word!
Hashtags are a powerful tool. They bring communities together and gain visibility across Social Networks. #HappyHashtagging
For other tips on Social Media in Youth Sports check out our last blog!