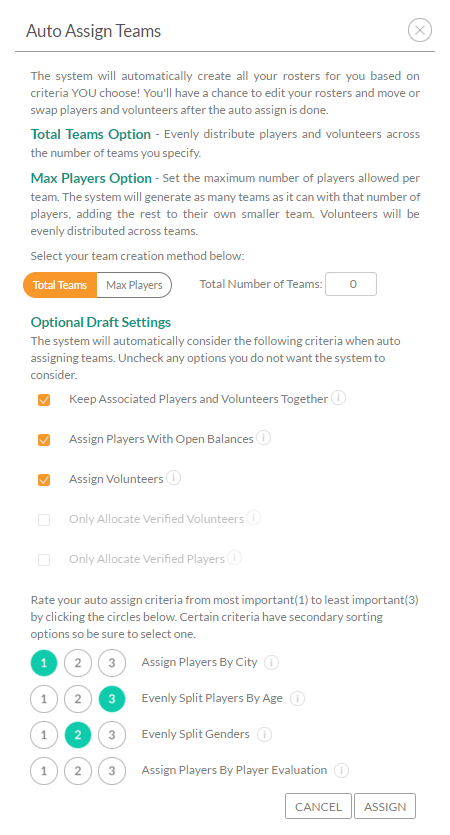 We just expanded our Auto Assign tool! We recently debuted Automatic Team Assignment to help busy registrars, coaches and administrators create evenly balanced teams. This tool is great if you need to assign players fairly by gender, skill level, age or other important criteria.
Now it's even easier for administrators to automatically create perfectly balanced teams with minimal tinkering.
Rank Team Balancing Criteria!
Administrators may now select the first, second and third most important criteria to use when Blue Sombrero automatically assigns their teams. Just click the 1, 2 and 3 buttons next to your first, second and third most important team balancing criteria and watch as Blue Sombrero creates your perfect teams!
Assign Players by City!
It's now much easier to avoid sending players on those long drives to practice thanks to the Assign Players by City team building criteria! When selected, this criteria will automatically separate players based on their home city. No two players from different cities will be placed on the same team unless an administrator specifically tells the system to do so.
Assign Players by Position
A sport-specific drop-down question will automatically be included in all your new registration forms allowing your users to select which position, if any, they prefer to play. Your auto assign tool now has the ability to consider users' answers to this question and evenly distribute players to teams based on their answers. Couple this with the tool's already-existing ability to distribute players by evaluation ranking and you can be 100% sure your league's teams are as evenly balanced as possible!
To use this new tool, select Automatic Team Assignment when building your teams, then choose Position as one of three criteria for the system to consider while building your teams. A few seconds later and your league is ready for its most competitive season yet!
If you haven't tried the Auto Assign tool and want to see how it works, check out this tutorial for a step-by-step explanation. Blue Sombrero is constantly working to improve its Auto Assign offerings. Keep an eye peeled for more updates soon!
In Case You Missed It:
Sign-Up for Your FanWear Store Now!
Announcing DICK'S Team Sports HQ
New Features & Updates from 2015