April Support Playbook Edition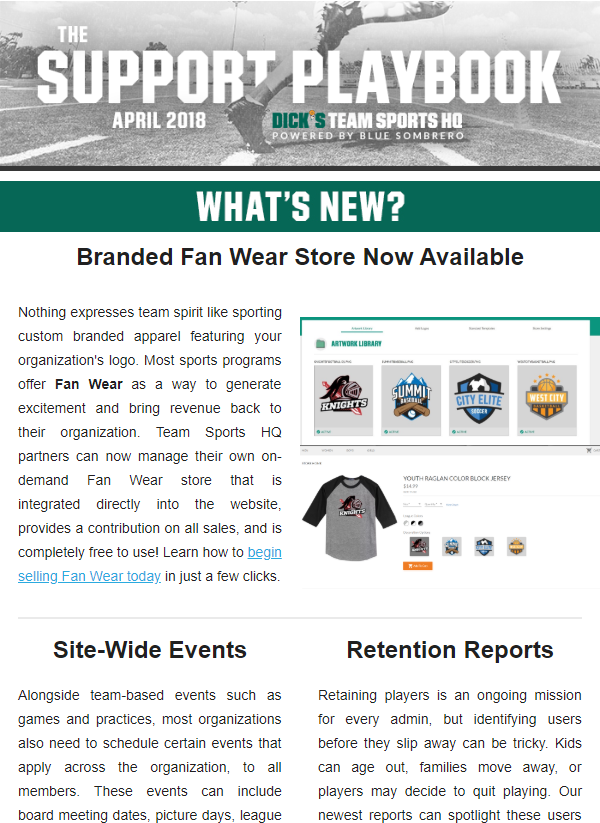 If you have not seen our past Support Playbook editions, we highly recommend taking a few minutes at the end of each month to browse these emails. They contain a recap of the month's product enhancements, administrator tips & tricks, frequently asked support topics, and more.
April was a huge month for releasing new features, highlighted by some of our most requested updates. One of the biggest releases in recent memory is to launch of custom Fan Wear stores for all of our partners. Not to be overshadowed is the addition of Site-Wide Events, a set of new Retention Reports, and a new website module, the Announcement Banner. Each of these enhancements is sure to make a big impact for our customers.
Our Support Team announced the upcoming addition of their new automated response system geared to offer quicker, better support for customers asking straightforward questions. Finally, admins can learn about the benefits of investing in their SEO by reading our blog series on SEO in Youth Sports.
Admins aree notified of these product updates via an in-app message every time a release is pushed. If you ever want to look back at past messages, you can click the green icon in the bottom right corner of your Team Sports HQ website, once you are logged in.