Team Sports HQ's integration with Affinity is taking a big step forward.
National Governing Bodies who use the Affinity Sports platform require certain player and team personnel data from their members. For local organizations who use the Team Sports HQ registration platform, life just got a whole lot easier!
To make registration management more streamlined for our administrators, all mandated questions from SAY Soccer, Pop Warner, and PONY Baseball & Softball National Governing Bodies (NGBs), will be automatically included and required within our registration forms for players and team personnel.
Including these required questions will allow our administrators to later submit their teams to their NGB online. This means: no spreadsheets, no file uploads, no manual entry!


How is this integration set up?
Governing Body integration all begins at Step 1 of Registration Setup. After naming your registration program and selecting the activity type (sport), admins will be asked to assign an Affiliation to their program. It is critical that the correct affiliation selection is made.
After the affiliation is selected, a series of additional drop-down boxes will appear in order to identify your association with the correct governing body details. It is critical that the correct season selection is made here as well. If these fields are not completed properly, then data will not be able to be synced accurately.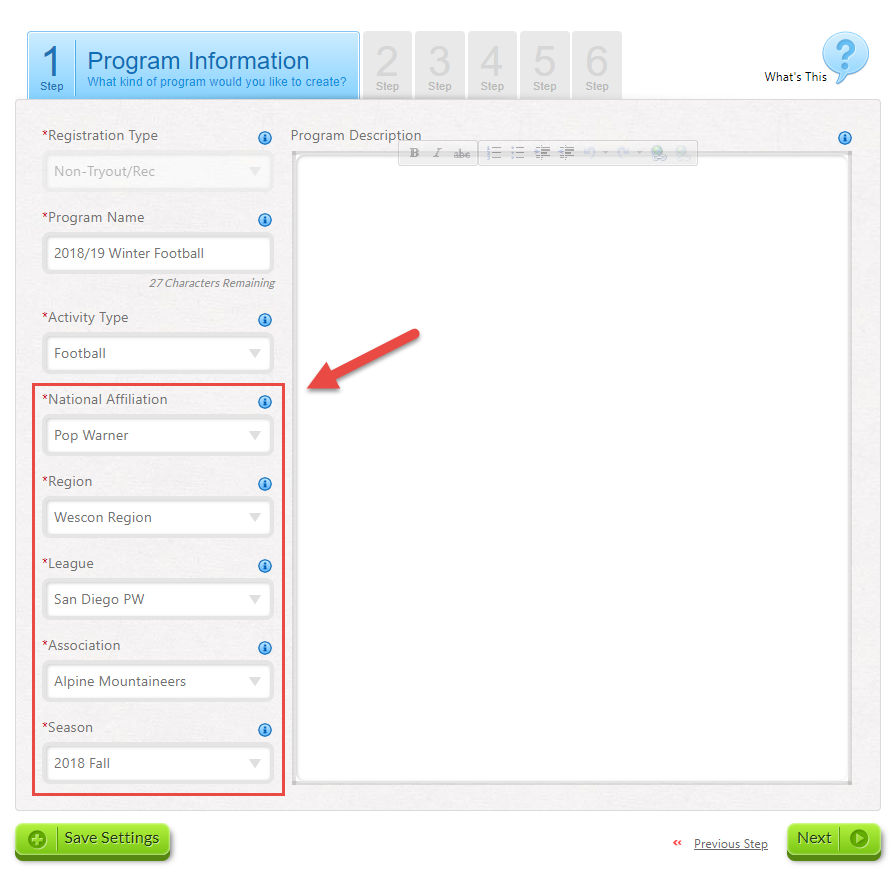 What is mandated by my National Governing Body?
This is dependent, of course, on your organization's NGB. For example, here is a list of questions we anticipate to be required by your NGB for players.
Participant Photo Upload
Birth Certificate Upload
Drop-down/Radio/Text NGB custom questions
Electronic Legal Agreements
Custom Player & Team Personnel Compliance Questions
Here's a sneak peek of Step 2 of Registration Set Up:
How will this affect the registration process?
Here's a peek of what's in store you for members:

Players may be required to upload a copy of their birth certificate, submit a photo, sign an electronic legal agreement (ELA), and any additional certifications, alongside your normal registration form.
For team personnel, if your NGB has required questions, an administrator will see a new section within editing the team personnel role titled Program Questions Required by your Governing Body:
Here is a list of additional questions that

can

be required for team personnel registration:
Team Personnel Photo Upload
Social Security Number
Driver's License
Drop-down/Radio/Text NGB custom questions
Electronic Legal Agreements
Birth Certificate
Additional Certifications
Here is an example of how these new upload questions will appear to the registrant:
How will this data be submitted?
Players and team personnel data will be submitted to your NGB in real time, during registration! No spreadsheets, uploads, or triggers are needed.
Then, once Admins submit teams from the 'Teams' tab by clicking the 'Submit Team' button, team data will also be transmitted to your Governing Body. Admins can check the status of the data submission by clicking the 'Team Status' button next to each team.
Where can I report on this data?
All data collected from players, parents, and team personnel can be accessed from the Reports tab at any time. With our advanced integration, there is no need to export player and team personnel data as this will be sent to your NGB online.
If admins want to report on this data during the season, they can easily access this in real time by editing a report. For example, you are able to pull the information on whether users signed the required electronic legal agreements and any other required waivers.
When customizing a report, these fields can be found in the 'Custom Questions' section.
Our users drive our platform. We're always striving to enhance our platform to better the experience. We're excited for how far we have come and all of the enhancements we have in the works. If you ever have a recommendation, feel free to submit your suggestion.