Our automatic recurring billing feature has been a big hit and now there's another reason to love it! With this new release, it's easy to adjust payment plan due dates and amounts to fit the needs of individual parents or players.
Have you ever had a parent enroll in an ARB payment plan but need to change the dates or amounts after registration? Now you can easily make an adjustment for them! This is a great feature for folks who may want to pay more earlier or perhaps need a little extra time to get their payments in.
To utilize this new feature, follow these steps below or check out our support article:
1. Go to the Orders tab and click on "Manage Installments".
2. Scroll down to see all the orders currently enrolled in ARB plans.
3. Find the order needing an adjustment and locate the down facing arrow on the right side of their balance.
4. Click the arrow and select to cancel any subscriptions you need to adjust. *In order to adjust subscription dates and amounts for ARB through authorize.net, the automatic subscription has to be cancelled first or credit card information has to be updated. **Users can re-enroll back in to an automatic subscription from their My Account screen after the dates or amounts have been adjusted by an Admin.
5. Now, click the green "Manage Manual Subscriptions" button above the search box.
6. Find the order again on this screen and click on "Edit".
From here, you can edit the due date(s) and balance amount(s) for each of the remaining installments.
Balance Amount Tips: 
Amounts for each installment must be greater than 0 and must add up to the total.
Due Date Tips: 
Dates for installments can only be moved backwards up to tomorrow OR moved backwards up to the day after the date of the installment before it. Also, dates for installments can only be moved forward up to the day before the next installment date. You cannot change an installment date to today's date.
Other Tips: 
An installment is not able to be edited if any of the following apply:
Installment has already been paid.
Installment is still set up as automatic recurring billing.
The last step in the process is for the customer to log back in to the site and go to their My Account page. From here they can click on "Convert to Auto Withdrawal" in the My Open Balances section located under their shopping cart. Once they input their CC info, they will be enrolled back on ARB so they won't have to log in before each installment to pay.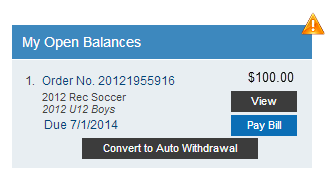 Messing with money is always a bit scary but fear not, our mighty Support Ninjas are ready to help if you have any questions!
Support Email: [email protected]
Support Phone: 866-258-3303