After reading countless, heartfelt stories and nominations about administrators across the country, we are truly humbled by the response to this year's Sports Administrator of the Year Contest! This year's bunch of finalists are nothing less than extraordinary, hardworking, selfless individuals. They are the first ones at an event, the last ones at the field, and the ones doing these jobs without the recognition they deserve. They are youth sports superheroes!
We are inspired by all of this year's finalists, but especially by this year's winner. We would like to take a moment to personally thank ALL administrators, coaches, and parents for your hard work and dedication to youth sports!
This year's Admin of the Year award goes to an administrator from Ohio who wears several organization hats. We received many stories and compliments about her and all that she does for her club, Cincinnati United Soccer in Cincinnati, Ohio. Without further ado, the 2014 Administrator of the Year award goes to…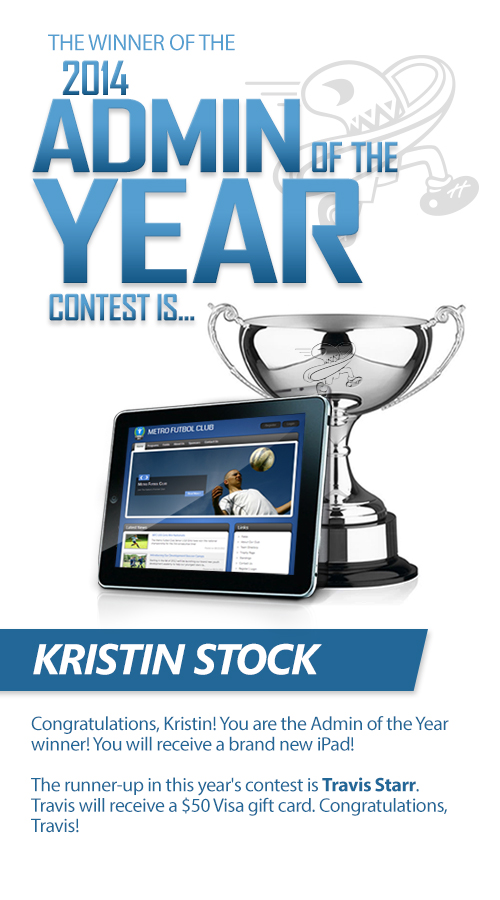 Here is just one of the comments we received about Kristin Stock:
"Kristin Stock is deserving of this award for many reasons. First and foremost, she puts the kids first. She cares about every player and wants what is best for them, always going the extra mile to make sure the players' experience is a positive one. She also wears many hats for our youth soccer club. Some of these include: Team Administrator,Tryout Coordinator, Fundraising Planner, Uniform Committee Member, Scheduler, and more. With all of the work she does, you would think she would get paid. However, she does not get paid, and rather does things for the greater good of the club, and most importantly the players. Without a doubt, Kristin Stock should be the Blue Sombrero 2014 Admin of the Year."
This year's 2014 Admin of the Year First Runner Up award goes to Travis Starr from Jackson Little League in Jackson, New Jersey! Here is one of the comments we received about Travis:
"Travis Starr is our league's building and grounds guy. This man continues to go above and beyond everyone's expectations in order to serve the youth of our town. His selfless efforts of putting in long hours of preparation to our fields make it possible for 400 children to enjoy the game of baseball. He is usually the first one to the field and last one to leave, making sure the field is in even better shape than when he arrived. He also is involved with announcing games, assisting with events, and keeping the whole little experience what it should be….fun."
Congratulations, Kristin and Travis! Thank you for the wonderful example you set for all of us. Cincinnati United, Jackson Little League, and Blue Sombrero appreciate you and all of the hard work you do!
Happy Administrator's Month!
The Blue Sombrero Team