Have you heard the term SEO? It stands for Search Engine Optimization which is the process of gaining visibility in search engine unpaid results. If a parent heads online to search for a new organization where their son/daughter can play lacrosse..or street hockey…or go to summer camp; you'll want them to get the right results. Hopefully that parent will see your site, let's just say Sombrero United Sports, and sign up their son/daughter for one (or all three) of your programs!
A recent study by Mediative shows the eye tracking of Google search engine users. You'll see that we are quick to look (and click) at the first few options available to us in the results. That's why we're all vying for the top spot!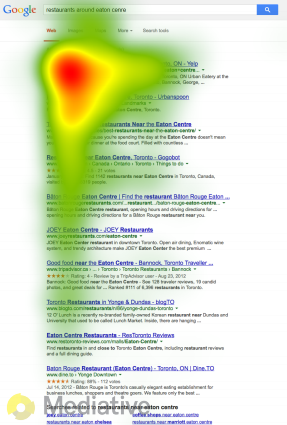 Let the games being!
Here are 6 of our top SEO tips:
Update your site regularly, especially your homepage. SEO is constantly changing as algorithms are altered and Googlebot continues crawling to find new and updated webpages.
Use Keyword-rich content, including words and phrases a search engine user would likely enter to find your site. This could be your organization's name, sport(s) offered, and location.
Edit Page Titles in each page's settings. Titling pages by the organization's name followed by the individual page name works best.
★ If we were on the Programs page of Sombrero United Sports; the Page Name would be Programs and the Page Title would be Sombrero United Sports – Programs
Keep your Social Media accounts fresh and include links back to your site. Moz's guide to SEO explains; "There is much debate among search professionals as to how exactly search engines factor social link signals into their algorithms, but there is no denying the rising importance of social channels."
Contact one of our awesome Support Ninjas to have them add keywords to your overall portal. For example, Sombrero United Sports would use the keywords Sombrero, United, Multisport, Atlanta, Youth Sports, etc.
Setup a Google Analytics account . . . which may sound scary to some, but we promise it doesn't bite!
Google Analytics is a free service (thanks to Google) which gives a website owner, or admin, information about incoming traffic. This data helps you learn more about site visitors. All reporting is in real time. You'll see how many folks are visiting your site, where they're coming from, which pages they visit most, and how long they stick around on each page.
If you are new to Google Analytics, here is a helpful get started guide from Google.
Once your account is setup, find your Tracking ID.
★It will be something similar to UA-000000-01.
Then check out where to enter that ID on your Blue Sombrero site.
★This will get things started on your site.
To speak with one of our Support Ninjas call 866-258-3303 or send an email to [email protected].