Support Playbook June 2019 Edition
If you have not seen our past Support Playbook editions, we highly recommend taking a few minutes at the end of each month to browse these emails. They contain a recap of the month's product enhancements, administrator tips & tricks, frequently asked support topics, and more.
---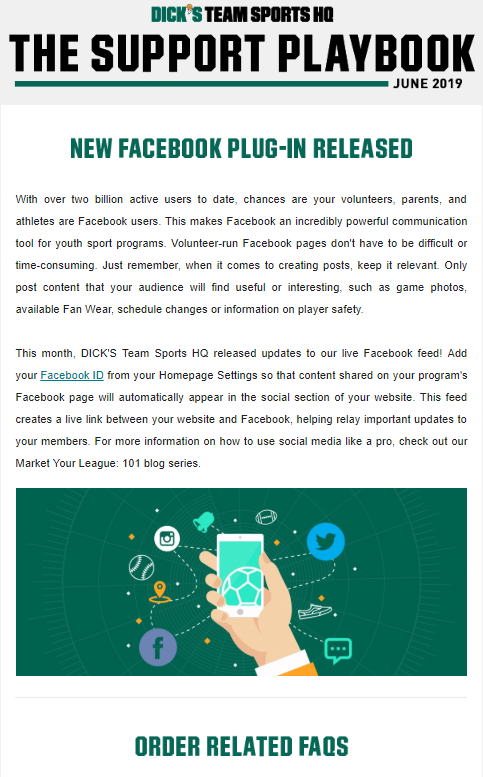 Social media is an important channel of communication for many youth sports organizations. Leverage the power of your social media with our New Facebook Plug-In! Posts made to Facebook or Twitter will automatically show on your website. Give your families more access to important news and updates by enabling this feed on your site, it takes seconds to set up!
Every season throws a new challenge at you when it comes to managing orders. One year it involves transferring players or teams around, while the next year you are tasked with scholarships and adjusting individual orders. Get ahead of these challenges by reviewing our Order Related FAQs.
Need some Tips to Maintain Your Website? Whether you are building out an entirely new site or just touching up your existing site, we have identified a few key tasks that can go a long way in making it look more visually appealing. Alongside these tips, stay tuned for more additions to our Partner Website Series.
Have you attended a live Training Webinar recently? If so, we want you to Tell Us What You Think. Take a few minutes to complete our survey so we can make these sessions even better for our partners!