[UPDATE] Double Elimination is HERE!
You asked for it, you got it! We are very excited to announce the launch of our new tournament bracket feature for all sports organizations using Blue Sombrero. This was created for in-house and inter-club competitions like an end of the season tournament.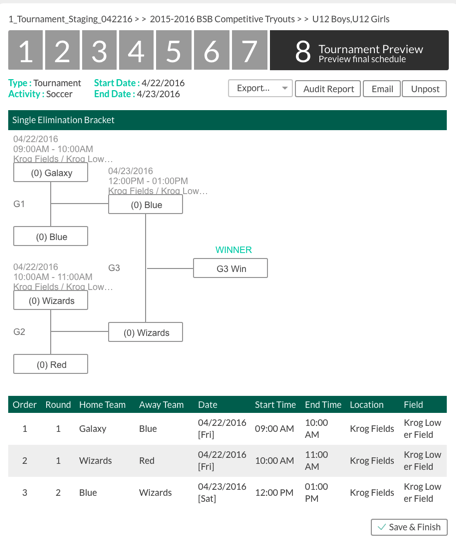 We often hear from youth sports organizations about the time commitment needed and difficulty of setting up a simple end of the year tournament. Our goal was to create a simple, intuitive solution for anyone who would like create a simple single or double elimination competition for their participating teams.
Key Features:
Instantly add your current teams and divisions to a bracket
Control who is playing, where they will play and at what time
Easily update, post, and share tourney results
The schedule will automatically be visible on the participating team's page, the DICK'S Team Sports HQ Mobile App and regular email alerts about upcoming matches. You also have the ability to export and email the bracket after being completed.
This feature is already baked into the Schedules section of our platform and it's super easy to create your first tournament bracket. To access the new feature, head over to the Schedules tab and find the green 'New Schedule' button. Cruise down to the bottom and find the 'Create a Tournament Schedule' to begin the setup. Click here for a detailed walkthrough.



As part of this new tournament feature release, we've also made enhancements to the scoring system. Coaches and Admins can now update scores and standings on a single screen which is a huge time-saver. Here's how to update and post scores following a completed tournament result.
Attention Baseball Programs: you now have the ability to add pitch count to your game results!
[UPDATE] Double Elimination is HERE!
Do you want to make sure your teams are guaranteed to play at least two games in a tournament? Now you can!
Winner and consolation brackets automatically created
Easily add a tournament from your Schedules page
Perfect for end of the season tournaments, jamborees and more!
The best part about this upgrade is how easy it is to use, simply select "Double Elimination" when creating your tournament. When you go to score the games, there is now a Winners and Consolation Bracket. Once a team loses a game, they then drop down to the Consolation bracket. If they then win the Consolation bracket, they then make it back up to the Winners bracket. If the Winners bracket champion wins against the Consolation bracket champion, then they win the whole tournament.
However, if the Winners bracket champion loses to the Consolation bracket champion, they must play a second game as that would be the Winners bracket champion's first loss (since it is double elimination). The winner of the next game would then determine the tournament champion!
For a quick tutorial, please visit: How to Create a Tournament Schedule (Double Elimination)
RESOURCES:
How to Update and Post Scores
How to Create a Tournament Schedule (Single Elimination)
How to Create a Tournament Schedule (Double Elimination)