Support Playbook August 2019 Edition
If you have not seen our past Support Playbook editions, we highly recommend taking a few minutes at the end of each month to browse these emails. They contain a recap of the month's product enhancements, administrator tips & tricks, frequently asked support topics and more.
---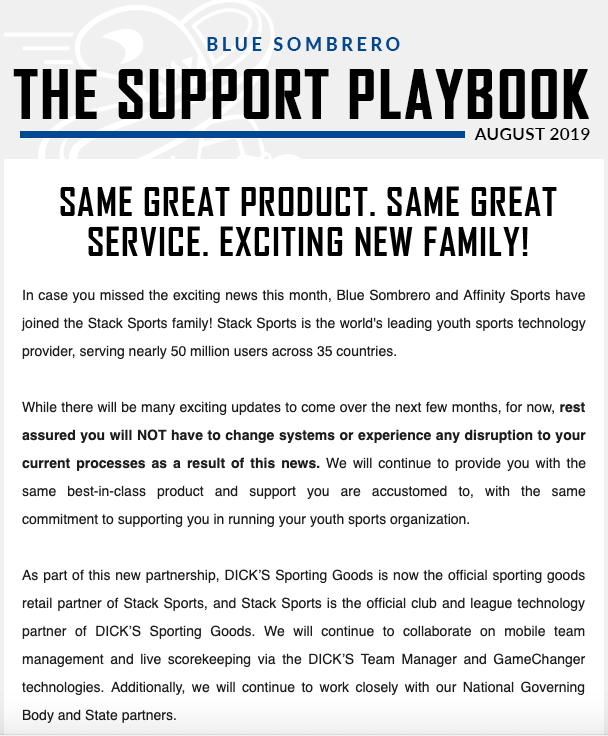 Inside this month's playbook issue:

Same Great Product. Same Great Service. Exciting New Family!
This month, we announced that Blue Sombrero and Affinity Sports are joining the Stack Sports family! We will continue to provide you with the same best-in-class product and support you are accustomed to, with the same commitment to supporting you in running your youth sports organization.
Summer Fan Wear Contributions
Organizations using their built-in online Fan Wear store received a quarterly contribution this month, earning 7.5% back on every purchase made. Setting up your program's Fan Wear store is quick and easy and requires no work to maintain. Get your store online ahead of registration so you can start earning easy money back!
Fees and Discounts
Using fees and discounts gives you complete control over your organization's registration prices at both your program and division level. Learn about the different discounts you can offer to encourage additional player registrations as well as common fees that can help grow volunteer sign-up.
When to Use Coupon Codes
There are many ways to effectively use coupon codes to increase your registration numbers, from scholarships to social media contests and flash sales. Use these best practices to strategically plan your coupon codes this season.
Webinars
Sign up for the September feature spotlight webinars, hosted by our knowledgable Account Management team.