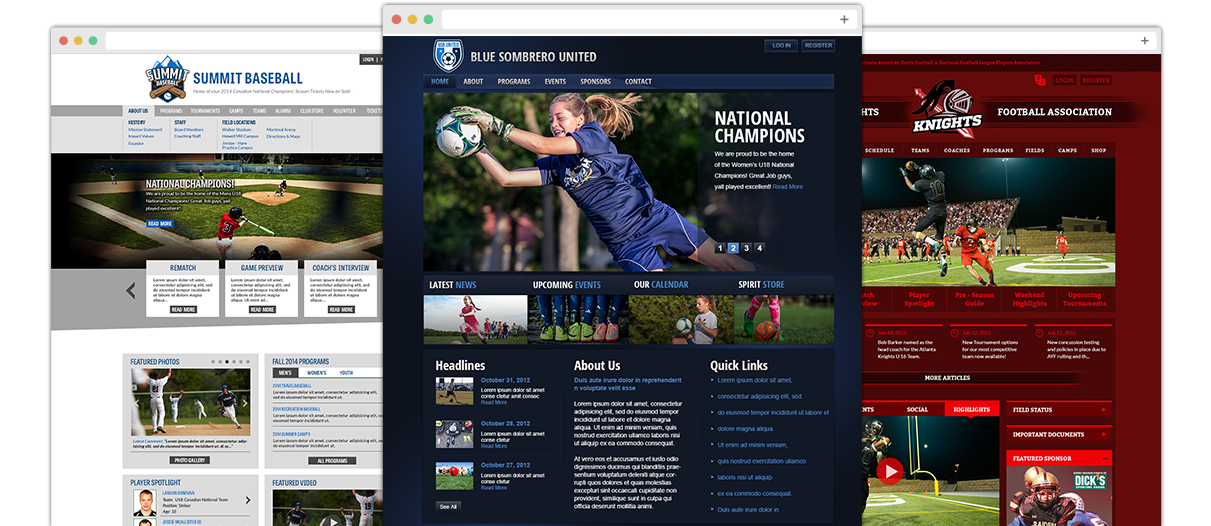 FREE SPORTS LEAGUE MANAGEMENT SOFTWARE
Thanks to the Dick's Sporting Goods Community Program, our free league management software powers thousands of youth clubs and leagues across the country. All you need to do is fill out the form on the right to get started - all sports welcome!
LEAGUE MANAGEMENT SOFTWARE FEATURES


GAME & PRACTICE SCHEDULING


TEAM & VOLUNTEER MANAGEMENT


FINANCIAL & PARTICIPATION REPORTING
Free league management software is just the start, we offer a complete solution for all your sports club or league management needs. Our product is an all-in-one software as a service. Blue Sombrero continues to be the premier solution for online registration, free sports websites, game scheduling software, team and volunteer management, team communication tools, and financial reporting. We used to be the most expensive product on the market but thanks to DICK'S Sporting Goods, all our services are now free for sports clubs and leagues across the country.

Although our league management software is entirely free and we don't charge our customers a fee, we go to great lengths to make our partners happy. Rest assured that you have a committed partner with a full-time software development and customer support staff. Read more here about why we're free. There are no contracts or hidden fees. Our customers consistently tell us they love the ability to pick up the phone and speak to a real human when they have a question.

Our company started with a mission to make it easier for hard-working volunteers to manage the day-to-day operations of their sports camps, leagues, and programs. Our goal is to help you spend less time doing paperwork and more time out on the field, watching your kids play the sports they love. It's an honor for us to help folks who are having a positive impact in their community and we hope to help your organization!