SEO for youth sports organizations has always been a hot topic for many of our customers. We're in the business of helping you, our partners, create the best experience possible for your members and having a great website that can be easily found is a huge piece.
The Importance of SEO for Youth Sports Organizations
Is SEO important for my site? Yes! But, let's put it into context for youth sports organization. For a lawyer or doctor, having a top position on Google can literally be worth tens of thousands of dollars and the competition is FIERCE.
Thankfully, SEO for youth sports organizations is far less competitive and manageable. Dedicating even minimal time to do some of the baseline recommendations we'll make in this article can have a huge impact on your ability to be found in search, by your parents and potential customers. No matter your level of web-wizardry, these tips can help you achieve your goals and create a better user experience for your organization.
Before we get going, we wanted to share an important video clip from the search engine Goliath, Google. They quickly explain how search engines work and give you a glimpse of what they're trying to accomplish.

Friendly Disclaimer
As much as we would love to offer a special set of to-dos that would rank everyone #1 in Google, unfortunately we don't have that power. Every organization's situation is different and a lot of it comes down to building a good site and being patient. The more put in to your site with respect to the tips below, the more you will get out of it. SEO is like a mutual fund investment. You shouldn't expect huge gains up front, but if you contribute consistently, you'll reap the benefits over time.
OK, Now to the Practical Steps!
This will focus on your Blue Sombrero website, but if you would like to build your SEO knowledge more generally, The Beginner's Guide to SEO by MOZ is a fantastic resource.
The two main components of successfully being found in search engines are:
On-page Optimization – how well your site and page content adheres to Google's guidelines
Inbound Links – how many other sites have links to your site (and how many)
On-page Optimization
This may sound scary but it simply comes down to making sure that you have some basic 'boxes' checked when the Google bots scan your page. This include a page title, description of the page's content, page keywords, a picture (or a couple), a healthy amount of content (text), and possibly some links to other pages on your site. Often, doing the baseline minimum will result in a substantial improvement. Here is a great visualization of the 'perfect page':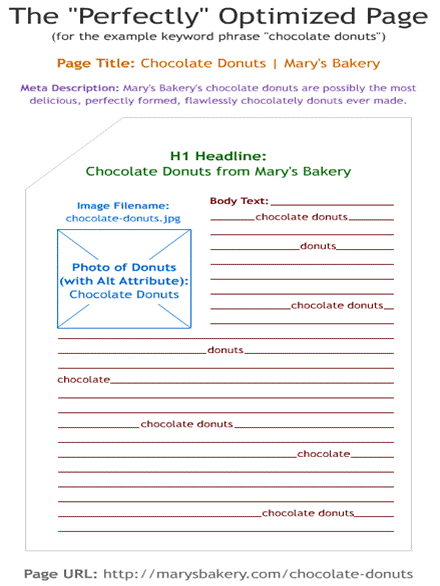 Put yourself in a parent's shoes. If they hop on their computer to look for registration information, what are they most likely to type? Do parents often use the full name and acronym of your organization interchangeably? These are important things to think about as we prepare the site title, page titles, and page descriptions.
Don't be afraid to ask some parents! Your perception may be different than what people are actually using to lookup your organization.
A great tool is Google Autocomplete. You know when you type something into Google and it starts producing other related searches? Those are actual keywords people are using to search, take advantage of them by catering to what people are already searching for.


UberSuggest is a great (free) tool for employing this approach.
How Keywords Fit In
No matter your level of expertise with SEO, you've undoubtedly heard about keywords. The truth is that keywords, in the way a lot of folks think about them, aren't as important as they used to be. When search engines first started organizing web content, they relied heavily on keywords as a way to classify and sort webpages. Savvy (and often unethical) web marketers knew this and figured out how to manipulate the system. They could push their pages to the top by doing things like adding a specific keyword 100 times in white to the background of the page, or paying to have links added to a high-traffic, foreign websites with target keywords that point back to their site. These tactics got results, but created a bad user experience for the average searcher who couldn't find the best content available.
Google has actively tried to address this issue over the years and formulate their algorithms to better serve Internet users by ranking the best content. The good news is that real sites, with real users (like yours) are the big winners.
What This Means for You
Applying this to youth sports organizations, it's still important to use keywords that describe your organization and what you do, you just don't have to go overboard with it. In general, you want to pick one keyword per page that is your focus and use it no more than 4-6 times. It's also just as important to add 'supplemental' keywords that relate to your main topic on that page. These provide Google (and users) with the context needed to classify your page and place in the search listing.
Final Takeaway on Optimization
Identify one keyword per page, write a good, concise page description, and make sure to fill each page out with healthy amount of content. There are no magic guidelines like a specific word count for content, but, generally the longer the better. Think about it like this: Google's mission is to make the Internet as user friendly as possible. They are in the business of rewarding the folks who put in time to build out their pages and deliver great user experiences. If you can dedicate even minimal time to ensuring each page has these basic elements, you'll be far ahead of the rest.
How to Improve SEO on Your Blue Sombrero Website
1. Log in as Club Admin or Website Manager- Admin -> click 'Website' from the menu bar at the top
2. You'll see all your Current Pages, choose one and -> click 'Settings' (gear icon on the right side)
3. Fill out the information (including a descriptive, concise page description!). When you do a Google search, this is what shows up under the name of page. It's like your advertisement for the page.
Page Name = Menu Bar
Page Title = What is shown in the browser and search engine (you can be more descriptive here)
4. Make sure your Page Title keyword is included in your Description at some point!!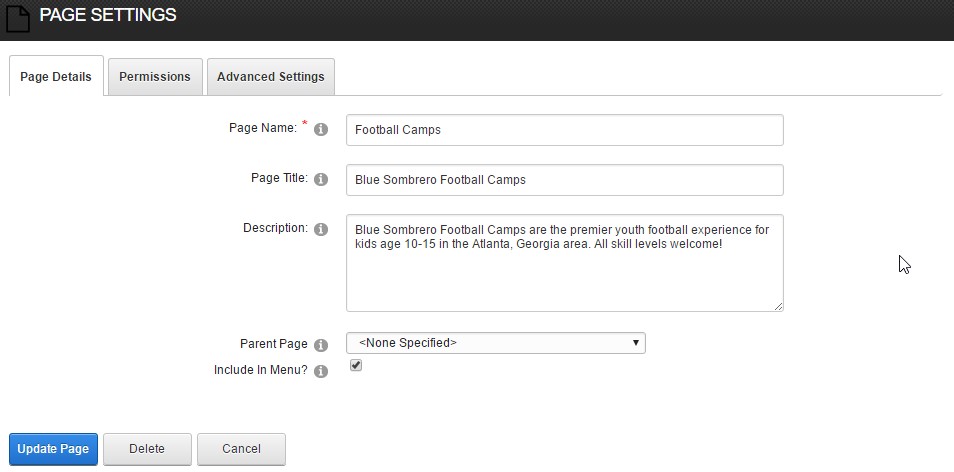 On to Inbound Links!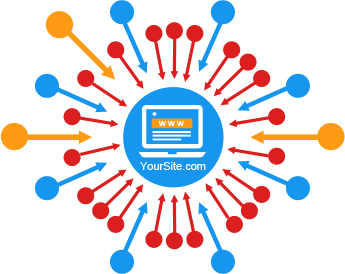 This may sound scary too, but do not fear! It is the more challenging side of the coin, because ultimately, you have less control than your content. However, it is a very important piece of the algorithm that will dictate where your site lands in search (especially if you are looking to make gains for a specific keyword).

In a nutshell, when another site has a link that directs a user to your site – this is an inbound link. Think of it like someone 'vouching' for you, at least that's the way Google sees it. The more you have from other quality sites, the better off you'll be. So where do you find these sites?
Here are some places to look:
Your Facebook and Twitter Pages
Sports Organizations or Leagues you Participate In

Newspaper 'Local Sports Roundup' Articles

Local Sports Blogs

Local Business Owned by Parents or Sponsors

Local Parks and Recreation Websites
For some of these, it's as easy as adding the link to your Facebook page yourself. Log in, add it to the info section and you're all set. You have a new link from a high-ranking website. For others like a local newspaper, this may take some extra work like emailing the local editor and making your case for inclusion. There is no real science to this, and a lot will depend on the resources your organization has available and the efforts you're willing to make.
As we mentioned before, even small additions can be hugely beneficial so you don't need to get carried away with this. But, if you are actively trying to improve the SEO of your site, this will be something you can continue to pursue month after month. From our own internal testing, we've seen one new inbound link from a reputable website have a dramatic impact on SEO for youth sports organizations. It's all about being creative here!
Parting Message
Hopefully, you now have some clarity around SEO and the practical enhancements you can make to your own site. There is a wealth of information out there (The Moz Beginner's Guide is a great place to start) and our trusty team of Support Ninjas is here to help as well. If there are other topics out there that you would like to hear about regarding SEO or marketing, we would love to share our knowledge! Thanks for reading!